About SLO Mama Sweets VINTAGE ICE CREAM TRUCK CATERING SERVICES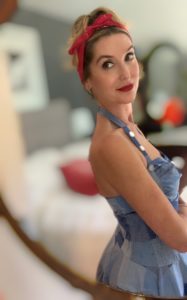 After running my own apparel manufacturing company, then spending many years  baking wedding cakes and desserts, I was ready to reveal a different side of my creativity. It was my desire to pursue a career on the Central Coast in which I could teach a strong work ethic to my children, instill the concept of "giving" and at the same time, incorporate some fun! Post inspiration, it took several years of dreaming, planning and building until our "Baby" was born~ a fully restored 1954 vintage ice cream truck. Currently we serve along the California coast from LA, Santa Barbara, Central Coast and beyond.
The magical experience of hearing the ice cream truck coming and the thoughts of the delightful contents which it holds are enchanting memories for many of us. Whether your event is elegant, casual, corporate or rustic chic, it would be our pleasure to provide you and your guests a sweet taste of the past, serving you delicious ice creams in our authentic uniforms of the era as you listen to the glorious sounds of 1940's big bands and early 1950's music. With the lovely jingling of our brass bells, we hope you will be transported to a dreamy time gone by as you enjoy our tasty frozen treats.
– Kathy
Owner & "SLO Mama"
It's our goal to provide all of our customers with a unique and delightful experience with wonderful lasting memories!  We have an hourly truck rental fee which includes cheerful 1950's uniformed servers, transcendent sounds of the era, and a customized chalkboard menu with your delicious items. Tailor your guests choices from all-time favorite traditional ice creams to amazing handmade local/artisan ice cream treats from Doc Burnsteins, Leo Leo Gelato and of course our very own amazing "Mama's Pops, Mama's Sammy's and other handmade Mama's treats"! (prices vary).
A non-refundable deposit and a completed and signed contract is required to secure your event date. This will be applied to your total invoice for the event service . Additional ice creams ordered at the event will be charged at the close of our time together as well as any additional truck rental time requested. Payment for these will be expected at that time. Please submit a reservation with your event details for pricing.
Pause for a Cause
SLO Mama Sweets believes in giving back.
We will be donating a portion of all our proceeds to the Leukemia and Lymphoma Society.
We are very excited to support this great organization near and dear to our hearts! Thank you!!
"In ordinary life we hardly realize that we receive a great deal more than we give, and that it is only with gratitude that life becomes rich."
– Dietrich Bonhoeffer
We would be remiss not to mention those who have guided, mentored, rescued and helped us along our way.
We owe a huge debt of gratitude to our mentor, friend and "godfather" of the ice cream truck business, Joe Marazzo of Delicious Ice Cream in NJ. Thanks Joe for all the generosity and guidance!
Thank you:
Melissa White for beautiful photography and the cutest little models ever!
Linson Signs – for bringing our signs to life.
Family and friends- who have walked along side us through many ups and downs and are always there to lean on and share an ice cream with!